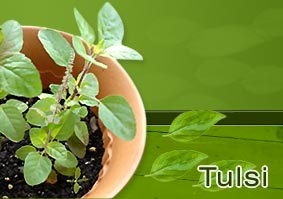 Last week I wrote about stress. I mentioned a few herbs that come to mind and after I posted I remembered a few more including one of my teas of choice at the moment Holy Basil. She goes by many names Sacred Basil, Tulsi (Hindi), tulasi (Hindi), surasa (Sanskrit) and
Ocimum sanctum
. She is a cousin to the basil you may be familiar with in pesto. I was first introduced to her at the New England Women's Herbal Conference. I was picking out a tea to try and went with something new. I continued drinking her after the conference for the flavor, warming properties and the energies she brought.
Holy Basil has long been revered in India for its ability to purify the body, mind and spirit. She is thought to provide divine protection to the household and is used to open the heart and mind and enhance the feelings of love and devotion. Many Indian households keep a Holy Basil plant in a special clay pot in their courtyard for its purification influence. Hindu worshippers of the God Vishnu often place a Holy Basil leaf on their tongue during morning prayers to insure personal health, spiritual purity, and family well-being. The daily use of the herb is believed to balance the chakras or energy centers of the body.

[1]

[2]
Holy basil reduces levels of stress hormones including cortisol. It helps build resiliency and enhances a feeling of balance. Herbalist and Ayurvedic practitioner Anne McIntyre uses Holy Basil for easing anxiety, depression, insomnia, and other stress related conditions such as headaches and irritable bowel syndrome. It can be combined with other herbs such as milky oat seeds, oat straw and lemon balm to rebuild the nervous system and uplift the spirit. It enhances cerebral circulation and memory and helps people with cloudy thinking, poor memory and lethargy.

[3]
Besides helping with stress Holy Basil is good to drink throughout the year for good digestion. It helps move gas, lessens heartburn, and lowers blood sugar levels, cholesterol and triglyceride levels. She can reduce fevers and flu symptoms, sore throats, coughs and histamine-induced allergies.
To make Holy Basil tea, cover a handful of fresh flowers and leaves with cool water and gently bring to a simmer. Remove from the heat and steep covered for 10 to 30 minutes. For dried leaves and flowers add 1 tablespoon to 8 ounces of hot water and steep cover 5 to 15 minutes. Enjoy 2 to 3 cups a day.